i remember picking it up in about 1990… i think scott woolum got it first.. one way or another.. Ginny wanted to show me a video of cats doing immigrant song because i was making fun of songs that shouldn't be played in a dining establishment.. and next thing you know.. it's dread zepplin hour here.
and while working on this music today … i knew this guy who's now passed.. Ed Zomerfeld (who had a long storied career in music and radio)..he had this facination with Jackie Wilson.. i never understood it until years later when i finally patched the reason that Leaving Las Vegas (nicholas cage.. alchoholic) used Jackie Wilson's Lonely Teardrops throughout.. jackie wilson was a speed and alchohol addict.. "Wilson suffered a massive heart attack while playing a Dick Clark show at the Latin Casino in Cherry Hill, New Jersey on September 29, 1975, falling head-first to the stage while singing "Lonely Teardrops". The blow to the head Wilson suffered left him comatose. For the next eight years and four months he was in a vegetative state until his death at age 49. Al Green, the soul singer, was one of the few artists who regularly visited a bed-ridden Jackie.".. he died in 1984.. the same year that Micheal Jackson dedicated his Triller album Grammy to him
…and one last cool thing to note about Jackie Wilson was the fact that he was a golden gloves division champion at the age of 16 in detroit… that fact goes to show that it's 90% perspiration and 10% inspiration.. jackie wilson would have been successful at anything he did.
and on another note… i've always liked the african american country cross over thing.. i mean ray charles' country and western album..charlie pride, dobie grey, aren neville.. etc.. but i've really grown fond of Big Al Downing.. his sound is unmistakable and remarkable…pictured with Buck Owens here.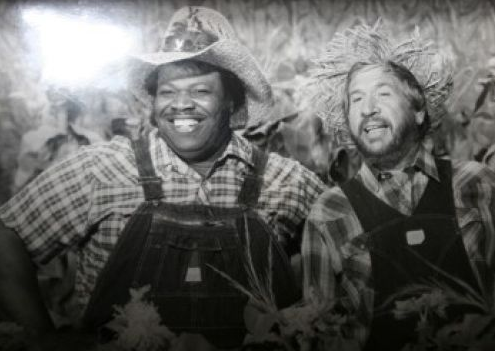 … how about this pre-mtv duzzie..