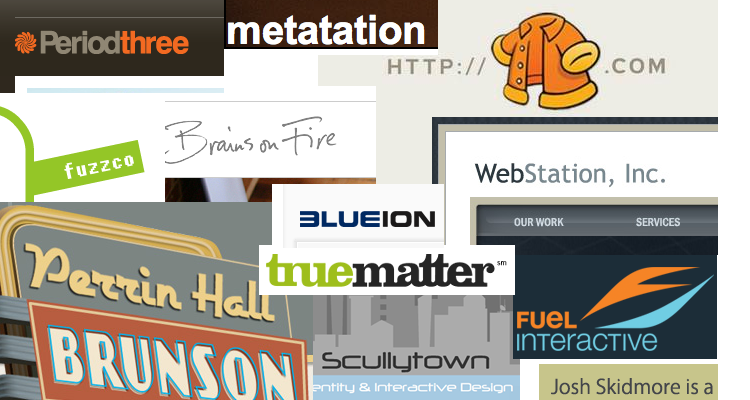 Over the last three years working with the web, designers, and developers (interactive agencies or what ever you want to call yourself….i've made mental notes on some of the best web development and design firms in South Carolina and some of the best practices of those developers or agencies (as far as i can tell) trying to be as impartial as possible and taking into account that it's not just valid code and design on a page that works online publishing work …what makes me qualified to make such a statement? a firm knowledge of hosting, seo, web standards, search engines, effective sites, flash, mysql, javascript, design, email, etc.. a background in media, the arts, and two years in the pits.. business experience. Considering every company or person may have differing needs. And many companies may underestimate the potential for using the web (for instance a small company may not think that they could put all of their forms online for clients to prepare before the meeting or purchase..and some people and companies may overestimate the importance of the web (for instance a company or person may spend thousands of dollars into building a website that will almost never generate a valuable lead or any good branding image or spend tens of thousands of dollars on internet enabled software or applications that are sketchy at best).. and don't underestimate the value of a full service ad agency to manage all of your marketing assets with one point of contact. What i've found is that quality and price certainly don't reflect one another from agency to agency and typically you find the real talent for programming, hosting, seo, and design working behind the scenes.
(in no particular order so don't email me and tell me that you should be number 1)
1. Fuzzco – Charleston
2. OrangeCoat – Greenville
3. Blue Ion – Charleston
4. Metatation – Charleston
5. Brains on Fire – Greenville
6. Scully Group – Asheville
7. Fuel Interactive – Myrtle Beach
8. Web Station – Charlotte
9. Period Three – Columbia
10. Josh Skidmore – Charleston
11. Perrin Hall Brunson – Columbia
12. True Matter – Columbia
1. always own your domains
– you may always move your domain to any host and work with any company at any time.
– there will be strings attached to your web developer or hosting company.
2. consider very economical solution options before employing a developer/consultant
– get a free typepad or wordpress website.
– consider doing it yourself with help from your kids or someone elses
– yahoo small biz hosting, google sites, godaddy shared hosting – site builder.
3. there is no "make money now" button and you will get out of it what efforts are put into it.
– adding more content, making the site valid, and accessable via search engines doesn't happen overnight
– you or your agency will have to devise and implement methods to drive traffic to your website.
4. there is no one size fits all and prefab solutions are not the way to go for 90% of you.
5. make sure that you developer is accessible and accountable to support your website
6. know what your hosting arrangements are and consider getting your own hosting
7. use existing dependable solutions for email. (ie.. google apps) for your domain.
8. fancy is not always better – consider usability and simplicity
9. keep all of digital assets and marketing materials in one place.
10. use dependable content management solutions that can be upgraded
worth a mention
1. sciway.net – almost as much traffic as major newspapers on a good day.. a value for effective online ads.
3. swampfox.ws – one of the most impressive and coordiated marketing and communications websites around.
if you can give me some compelling reasons to change any of this info.. please email me.