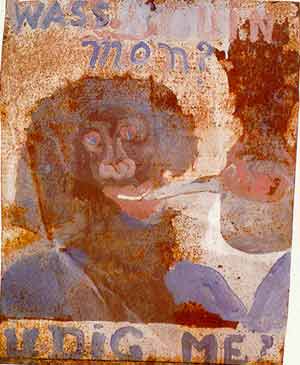 Was A Guin Mon/U. Dig Me?, 1980.
Sam Doyle: Enamel paint on metal, 28×22"
I drink starbucks, shop online, read the NYtimes.. but I don't fit the rest of the bill or call it my culture. No matter what I can tell you of the exibits at MOMA, Apple's new OS, or of the music scene in SoCa., I think the most interesting things I can explain aren't of that ilk at all. I am always checking the art galleries downtown Charleston with their 90% crap offerings and as the city becomes more saturated with newbies , I am reminded of how much culture is already here in the lowcountry of SC.. ie..
High Sherrif of the Lowcountry is a book written by Sheriff J. E. McTeer.
(1903-1979): McTeer began his 37-year term as Beaufort County Sheriff in 1926, the nation's youngest sheriff at age 22. He was a self-proclaimed witch doctor whose best-known nemesis during his law enforcement career was "root doctor" Doctor Buzzard (Stepheney Robinson), who eventually admitted that McTeer's voodoo powers were greater than his own. The Sheriff's books — High Sheriff of the Lowcountry; 50 Years as a Lowcountry Witch Doctor; Beaufort, Now and Then; and Adventure in the Woods and Waters of the Lowcountry — reflect the words inscribed on the bridge that now bears his name: "legendary lawman, author, spellbinder and raconteur."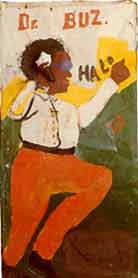 Dr. Buzz.
Sam Doyle
Enamel paint and tar on metal (with conch shell), 57×27"
Sam Doyle
The subjects of Sam Doyle's paintings are his community, the Island of St. Helena. As a child in the early 1900's, Sam Doyle saw the migration first hand. He himself was offered an opportunity, early on, to leave his island for New York City by a sister of one of his teachers at the Penn School. His refusal to migrate to New York for formal art training was a direct function of his family's impoverished condition
Local Heroes: Paintings and Sculpture by Sam Doyle
High Museum of Art, Atlanta
70 portraits with subjects ranging from Miss Luckie Food Stamp and Onk Sam to Martin Luther King and Ray Charles, done in house paint on old roofing tin by Sam Doyle (1906-1985), who lived his entire life near the small community of Frogmore on St. Helena Island, S. C.
Tour: The show originated at the Portland (Ore.) Art Museum; following its appearance in Fort Worth, it travels to the Muse des Arts Dcoratif, Paris, and the Hermitage Museum, St. Petersburg.
Funding: American Airlines.
Penn Center
article on Doyle
Wiki on Doyle
Outsider Art
Folk Art.org